So I'm watching today's Reds vs Cubs game today, and something unusual happened. Watching the WGN feed, I hear Len and Bob discussing relief pitcher Alberto Cabrerra, saying that he has not yet given up a hit, yet I noticed he had a 7.65 era coming into today's game? How is that possible, I tweeted. I was quickly receiving tweets from others wondering the same thing, and a couple of tweets that explained on August 5, against the Dodgers, he pitched 0.1 inngings, giving up 2 walks and 2 earned runs, then reiterating, "How is this possible?!?!"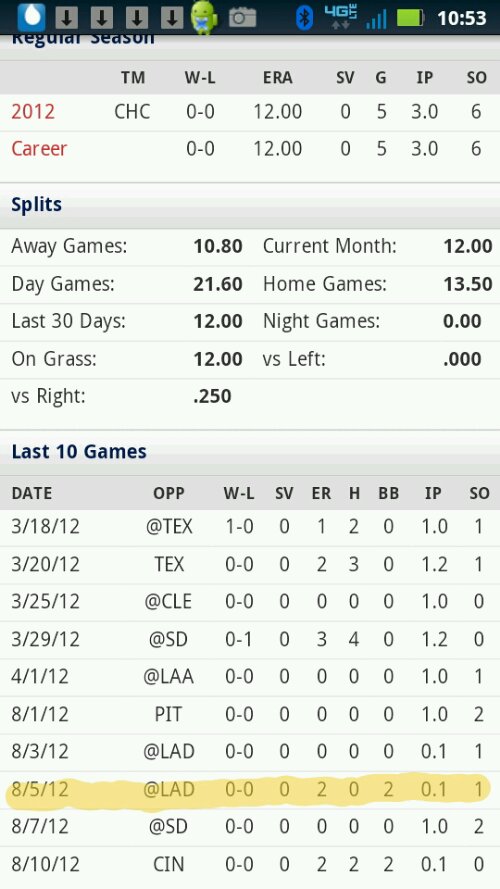 All I could come up with was that it somehow involved additional base runners and maybe some errors. But the runs are EARNED, so no errors were involved. Conundrum. And no other ideas! Well, @rausdenmoore and @rednutsteeljack came up with the answer, and it makes perfect sense, really. Cabrerra comes into the game with a runner on first after the last pitcher gives up a walk. He then walks both batters he faces to load the bases. The next pitcher gives up a bases-clearing triple, which scores the 2 batters Cabrerra had walked. Hence, 0.1 innings pitched, faces 2, walks 2, gives up 2 runs. Wacky! That's why baseball is the greatest game on earth, because in it, even the impossible can happen! And twitter makes it even better.
Bonus wacky stat: Len and Bob talked about a pitcher (don't recall name or date) who gave up 2 hits but retired 3 batters, all with 4 pitches! How can that happen? Glad you asked. First pitch: base hit. Second pitch: swung on an missed, runner thrown out trying to steal second. Third pitch: base hit. Fourth pitch: hit into a double play, end of the inning. That's how that happens. Dig it!