…was my first no-hitter. What an amazing game to attend.  The 280th no-hitter in the history of baseball. Here's my view of this historic game in words, pictures, sounds and video.
Last Thursday, I received a text from my cousin inviting me to see the Giants play the Reds Tuesday, July 2, 2013, with him, his wife and their daughter. Having not yet been to a Reds game this season, "I'm in!" was my immediate reply. He texted back, "they're great seats."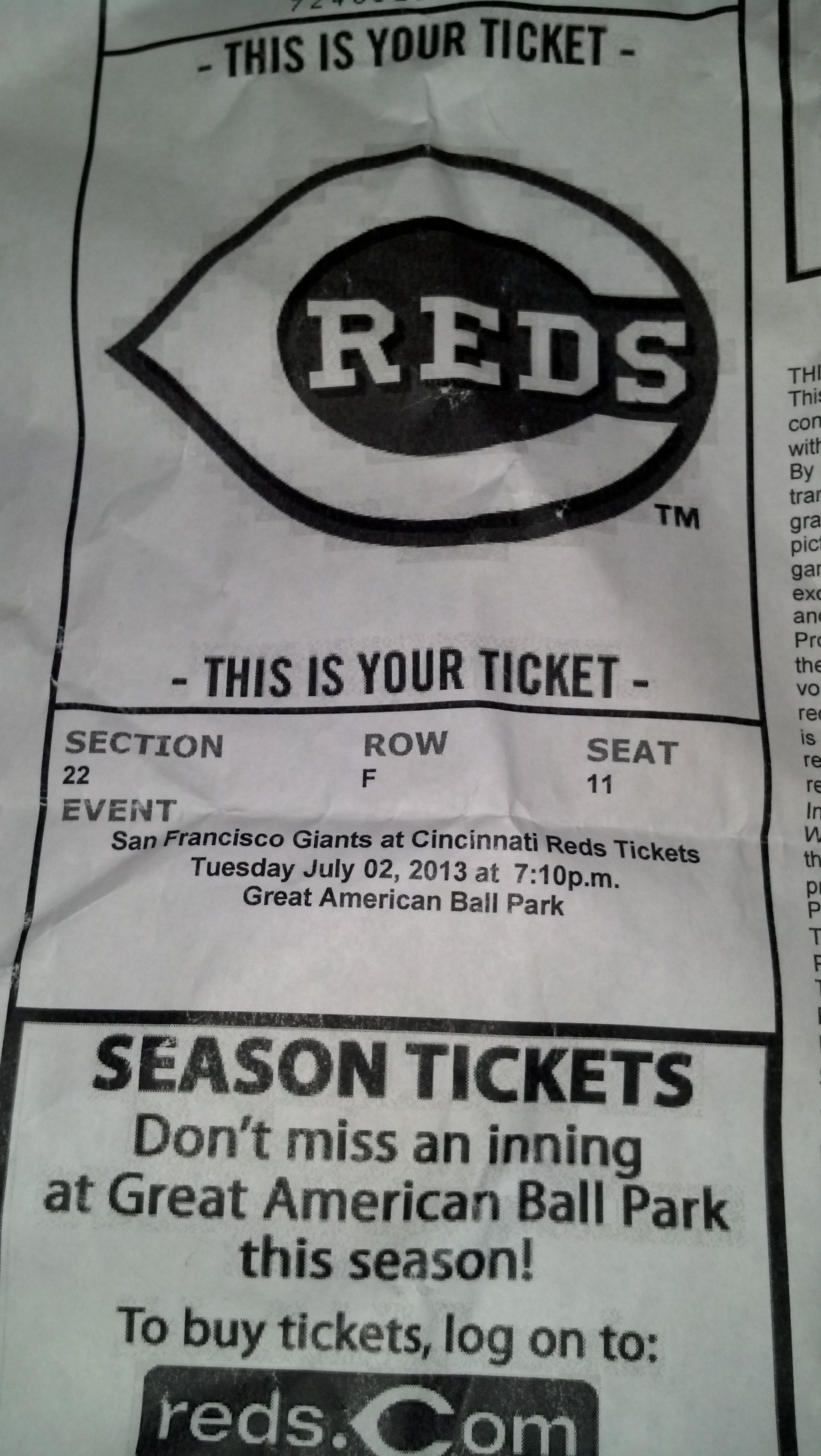 As you can see, they were "great seats" indeed! Section 22, Row F, Seat 11. The "ticket", an unassuming computer print-out, while not very exciting to look at, was my pass to witness a piece of baseball history. Now crumbled, it was folded, pocketed and somewhat abused throughout the course of the game, will be treasured for a long time to come as my "receipt" to document my presence and my witness to greatness. The tweet I sent on arrival, demonstrating the view: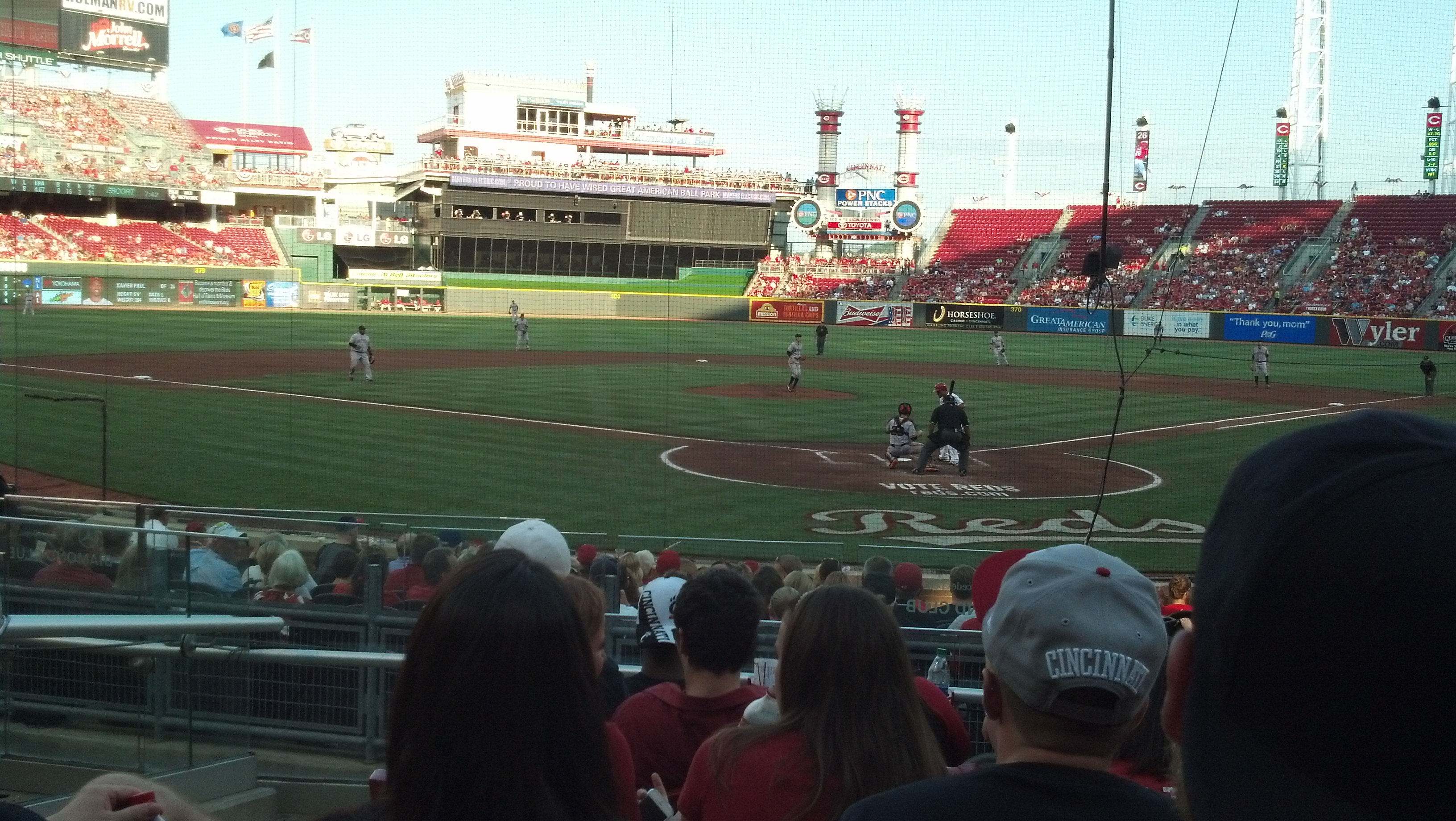 My cousin spent some 15 years living in SF, and thus he and is clan are Giants fans, though his daughter is a huge Reds fans except for when SF is in town. She and a friend had attended last night's game. Even in the car on the way to GABP, we were talking no-hitters. "Has Timmy ever pitched a no no?" I asked my cousin. "No," he replied, to which I informed him "Homer has." By the end of the second inning, I'm turning to my cousin's wife, saying "So far, Homer's got a no no going. And Timmy has a 1-hitter going." It was clear Homer had his good stuff today, but too early in the game to do anything other than joke about a no no…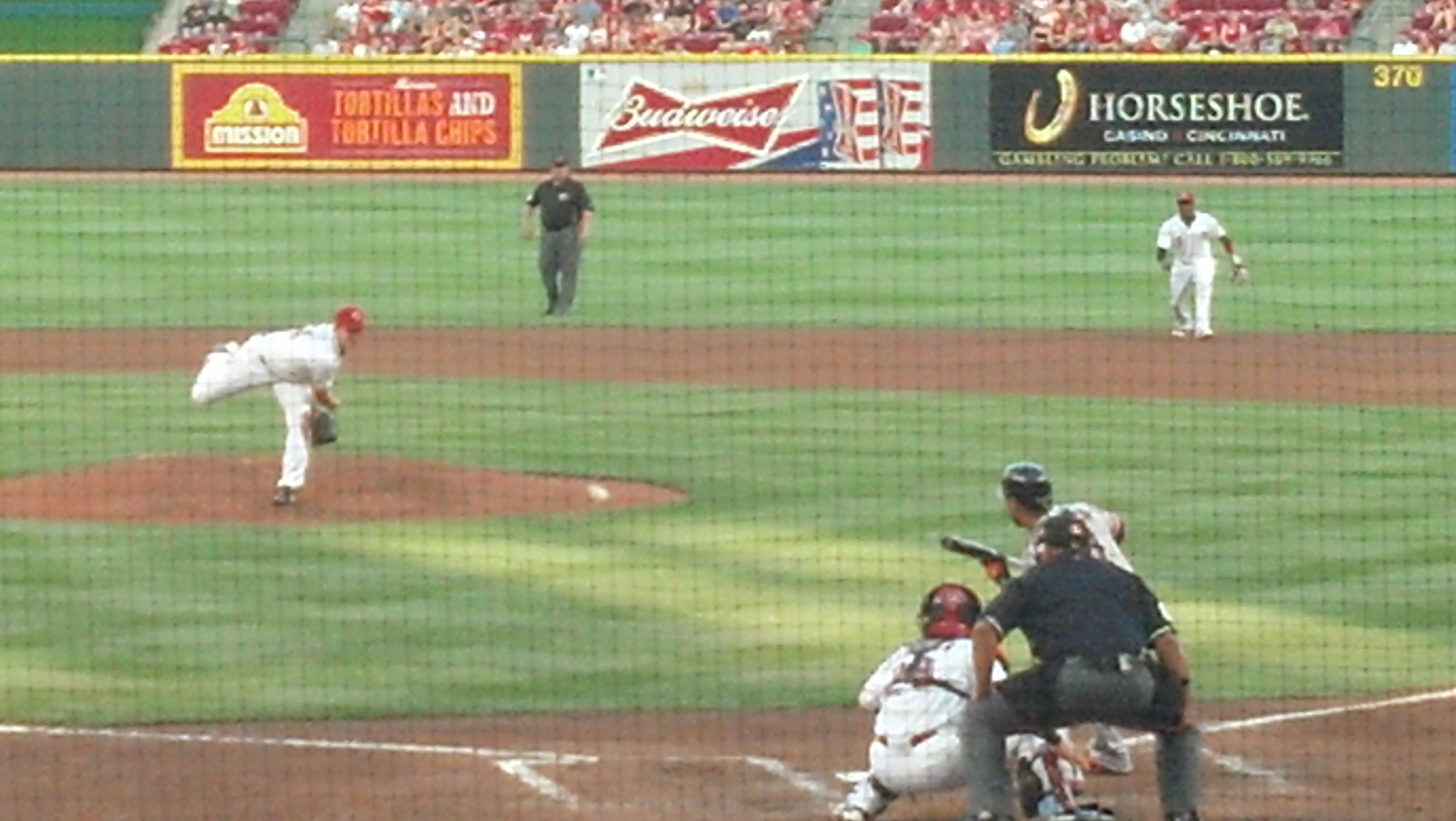 In the bottom of the 4th inning, I ran up to get some food. Indecision kept me searching, and it was the top of the 5th. Watching Homer on the monitors throughout the stadium, I decided on a Big Boy, which I procured and raced back to my seat. Only missed one batter, and enjoyed the Big Boy at my seat while watching Homer wrap up the fifth. No no intact. This is getting really good.
As each inning passed, the crowd became more intense. By the 7th, when Homer issued the first walk of the game, the crowd was becoming quite vocal. All at once, 27K+ people became one voice. The beauty of pitching a perfect game into the 7th is that you can blow the perfection and still be left with a no-hitter. Homer kept it together, the fielder's choice not getting the better of him.
By the 8th inning, the crowd was hyper-focused on every pitch. "Oooohs" and "Ahhhhs" took on the tone of a Game 7 in the World Series. This was serious business now. I was somewhat shocked to learn there were only 27,500 and some people on hand, I thought sure there were many more. But we 27K+ people were morphed by Bailey and his teammates and their unwillingness to let the opponents get even a hit, into becoming the baseball beast, an organism so large it fills a stadium, and has only one purpose – to be fully consumed by the game and give it's energy to the players. The baseball beast would bear witness to history before later breaking into thousands of smaller organisms and dispersing out into the night, carrying what they have seen to the rest of the world.
To be honest, the sights and sounds and excitement energy of the 8th and 9th innings are not describable with words. It was truly beyond description. At the start of the 8th, my cousin turned to me and said, "Homer's going to do it. He's going to pitch a no hitter." The possibility of witnessing such a rare feat was overwhelming. I could not believe I was there.
And for the finale, here's my phone-shot video of the end of the game. This is how I saw it, this is how I'll always remember it.
I left GABP feeling amazed, stunned, thrilled, charged, happy and lucky, very lucky. Lucky to be there. Like "winning the lottery" lucky. The greatest thing I'd ever seen in a baseball stadium. Thank you, Homer Bailey.
On the way home, traffic was nuts. News trucks lined the streets for blocks. We talked all the way home, save for a few minutes I tuned in to 700 WLW to hear some of the talk. Much to my surprise, all I heard was some moaning about how Homer didn't take time out to talk to Seg Dennison after the game. When I got home, just after midnight, I immediately started watching the game. It answered a couple of nagging questions I had regarding a couple of plays in the game, including the Choo double/homerun/double at the start of the game. I watched all the way through to the post game, seeing Bailey talk to FS Ohio, followed by the press conference with DustyBaker, then Brandon Phillips, then Homer Bailey & Ryan Hannigan. No shortage of interviews after the game.
On Wednesday, July 3, Scott Sloane continued the moaning all morning, followed by Bill Cunningham, who stepped up the hate campaign against Bailey. For me, the lasty straw was the promo they ran which started with Marty's call of out 27, then declaring that Ryan Hannigan had called his second no-hitter, with no mention of Homer. Clever, but not at all classy. Then Cunningham repeatedly said "Bailey should be crucified". By the second time he said it, my fingers are dialing WLW. During the hour and 45 minutes on hold, I thought about what I wanted to say, and realizing how quickly Mr. Cunningham can become confrontational, I decided I should lure him into a false sense of security by "complaining" that Homer's on-field interview wasn't pumped through the stadium PA. Honestly, it would have been nice, but as I state in the call to WLW, I really don't care much for the pat questions and cliche answers of post game interviews. That said, the interviews I did see with Homer were far from routine and quite good. Here's the call:
I felt it was a good call, though I didn't get a chance to address all the points I wanted to. I felt I got to Bill Cunningham, and put him in his place a bit. But, if nothing else, I set the stage for the next caller, who nailed the coffin shut and got to the heart of the matter:
Later in the day, Tracy Jones repeatedly apologized for the station's mishandling of this situation, but I would love to hear Seg & Mr. Cunningham apologize for their deplorable behavior. After all, if this is how "The Home of the Reds" treats Homer, it doesen't make being at home very pleasant.
All radio nonsense aside, Homer Bailey and the Reds gave me the best experience I've ever had at a baseball game. Thanks again.
Were you there? Have any thoughts or comments on what you've read? Email me at baseball@andrewshaman.com.